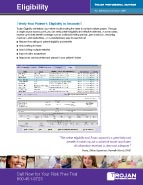 Reduce time calling for patient eligibility and benefits
Avoid waiting for faxes
Avoid visiting multiple websites
Improve claim acceptance
Responses can be printed and placed in your patient's folder
Verify Your Patient's Eligibility in Seconds!

Trojan Eligibility centralizes your efforts by eliminating the need to contact multiple payers. Through a single source access point, you can verify patient eligibility and effective date and, in some cases, receive up-to-date benefit coverage such as individual waiting periods, plan maximum, remaining maximum, and deductibles - in a standardized, easy-to-read format.
"The online eligibility and Trojan support is a great help and benefit; it makes my job a whole lot easier and faster; all information received is clear and adequate."
Rosie, Office Supervisor,
Kenneth Hirsch, DMD